Entrepreneurship is the combination of innovation and risk-taking. In Pakistan, it is a much-undermined term. This perspective can only be changed by educational institutes. The United Nations Educational, Scientific and Cultural Organization (UNESCO) described modern universities as a global prospect for higher education in the 21st century, as follows: "It is a place where entrepreneurial skills in higher education are developed to facilitate graduates' capabilities to become job creators"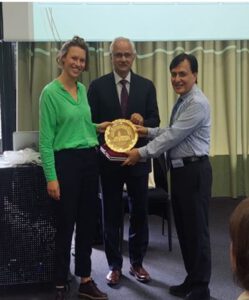 To transform into entrepreneurial universities, four Pakistani universities; Government College University Lahore, COMSATS University, LUMS, University of Gujarat, and two European Universities, University of Saarland, Germany, and Athens University of Economics and Business, Greece have partnered under the flag of TAKE-UP -which is an Erasmus+ funded project.
Since its inauguration in March 2020, several activities have taken place in this project in all its partner universities. An entrepreneurship course has been co-designed and developed, which is being offered across all disciplines in all the partner universities. This gives students exposure to entrepreneurship education in different educational programs and helps to change their perception about their future careers.
As part of this project, an entrepreneurship coaching manual has been developed, and entrepreneurship master coaches are being trained. The first pilot training for entrepreneurship coaches recently took place in Saarland University, Germany, where trainee coaches from all the partner universities took training over a full week. The training was provided by master coaches which included a number of hands-on activities. The coaching curriculum covered the full spectrum of topics including ideation, product development, marketing, motivation & team building, project management, and legal aspects. The trained coaches will now train other coaches in their respective universities, so that more students can benefit from more personalized advice and mentoring.
As more students learn about entrepreneurship and get personalized guidance to pursue their business ideas, we are bound to see a change in the entrepreneurship horizon of Pakistan. These students, trainers and coaches are the real change agents, which are making this happen.