Three staff members visited Saarland University (UDS), Germany, from 25-07-2022 to 29-08-2022; for the Train-the-Trainers Program from the University of Gujrat. The purpose of this visit was to train the partner universities' coaches for the entrepreneurial courses under this project in the pertinent universities. Target groups for trainees included staff following members associated with incubation centers and professors, working as mentors/coaches at the University of Gujrat.
Shahzada Babar, In-charge UOG BIC/Manager ORIC, PI of the project.
Dr Ghulam Abbas, Associate Professor/Chairperson, Department of Chemical Engineering.
Dr Hammad Ismail, Assistant Professor, Department of Biochemistry and Biotechnology.
Using tools developed earlier in the project, selected trainees were involved in the following training sessions.
1st Session
Discussion in the 1st session was about "Who is an entrepreneurial coach?" and then traits of entrepreneurs were explained following the reasons that why start-ups fail?"
Activity-based involvement of participants in Effectuation GRID and BMC models helped to understand the importance and need of these models.
Then the group discussion was carried out about "Generating ideas and screening good ideas". The participants gave their feedback that how good ideas can be screened and how a new idea can be brought to maturity level.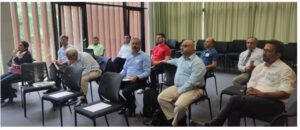 2nd Session
In the second session following aspects of entrepreneurship were discussed.

Project management
Legal IP Management
Communication skills

The session talked about that how a business can be managed using different tools and activities such as

"Value Proposition Canvas"
"5 Ps of marketing"
The Business Model Canvas

All members actively participated in these activities and provided their feedback and suggestions.
Then the house discussed the legal issues and IP management in Pakistan for running the business.
In the last part, different levels of verbal and non-verbal communication were discussed, including motivational videos.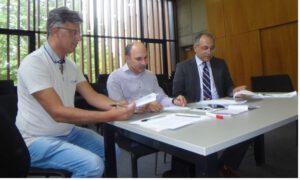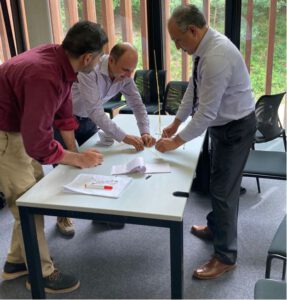 3rd Session
In the third session the participants were involved in a discussion related to "Team Management, Feedback, Leadership styles, and Teambuilding". All the participants were engaged in a group of three members to perform an activity known as "Marshmallow Activity". The marshmallow activity is a very good example of teamwork. Then to realize the importance of teamwork members were involved in another activity known as "Wilderness survival".
Conflict Management and Negotiation: This included a brief discussion followed by an individual activity-based task known as "Can you break the cycle of bad communication" and a group case study of "LA-Z-BOY, INC".
In the last session team talked about "Change and Stress Management". After formal discussion, all participants engaged in three different activities called

Pressure to be a team player
Is it unethical to lie during negotiations and
The rise of extreme jobs. All membered actively participated in these activities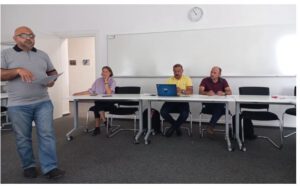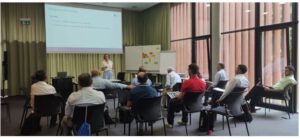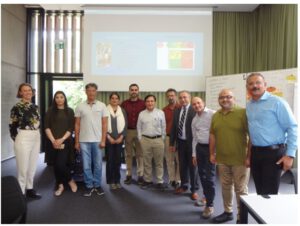 4th Session
In the 4th session 1st talk was about the "Sources of motivational problems and procrastination" and "Types of motivation". This session included multiple examples from real-life case studies. Participants discussed different ways that how one can motivate the team or members of the teams. All the members were involved in positive and productive discussions.
In the 2nd part introduction, target groups for businesses were discussed. To elaborate on this idea, members are involved in a group activity called Create a Buyer Persona. In this activity, all groups wrote down the characteristics of an ideal buyer for their business.
Then the group talked about "Attracting customers and building a network". This session consisted of a presentation and detailed discussion of the participants one being entrepreneurs and the other as the listeners. To strengthen the concept, a detailed worksheet of activity called "Project management" with the example of "Work Breakdown Structure" was filled and discussed.
5th Session
This was the last session, and the following aspects of the training/workshop were covered
Getting to know yourself and the startup consultant/social networks
Establishing a setting for entrepreneurial coaches
Different startups established at Saarland University were discussed.
Discussed opportunities and challenges of the startup and social networking.
How we can start coaching at Pakistani Universities.
Finally, discussed the project management, next steps, and prospects
The participants actively attended all the presentations and actively took part in the discussion, individual and group activities, QA sessions, and feedback subsequently. Trainees were made aware of their strengths and weaknesses. Each trained trainer was asked to commit to conducting at least one/two workshop(s) for staff members of the University of Gujrat and any non-partner universities with at least 10 participants each.
Observations and lessons learned
Following are the lessons learned during the visit to Saarland University, Germany.
Team with high motivation, enthusiasm, and a strong entrepreneurial mindset is required to bring incremental improvements to convert business ideas into a successful business venture.
Strong industry-academia linkages are required to understand the issues, and challenges associated with the real business world.
Transforming the students' theoretical basis into practical approaches by bringing industrial knowledge into the team setting to evaluate the ideas in real business terminologies.
Identifying the business ideas stages and provision of relevant resources like coaches, mentors, and experts whenever and wherever needed.
Engaging faculty members with students and encouraging students to discuss their ideas and willingness to participate in entrepreneurial activities.
Support from other key departments like the business department, material laboratories, computer department, and cyber securities department is required to work on business ideas related to high-tech industries such as automotive, smart engineering equipment, medical as well as cyber security equipment industries.
Availability of a high-tech fabrication lab to develop prototypes to visualize the actual version of the ideas to test its functionality and the problem being faced during the development phases. The Fab lab staff is highly skilful to guide the students about the various aspects of prototype development and beyond their thinking during the conceptualization stages.
Overall, it was an opportunity to understand the fundamentals and strengths of universities to develop successful business ventures by facilitating university students. These universities may become successful in developing an entrepreneurial mindset as well as the system support may prove helpful in producing successful business ventures due to the favorable eco-system.